Streamlining for Success: How to Optimise Your Online Language School's Operations
Looking for ways to streamline your operations and improve the efficiency of your online school? In this article, we'll explore how to simplify the 7 most common activities of online language school administrators so that you and your team can focus on the work that matters.
1. Teacher recruitment, management and quality assurance
2. Lead generation and management
3. Tutor and Student management (students, teachers, administrators)
4. Schedule online classes
5. Class delivery
6. Reporting
7. Student payments

1 Teacher Recruitment
Your online classes will only be as good as your teachers. So when you're trying to scale your teaching business, being able to hire great teachers quickly is critical.
The first task is to evaluate your existing processes and spot the tasks that take you the most time and energy. You might find that it takes hours (and sometimes weeks) to hire a qualified teacher. Your business suffers for every additional day that a teaching job remains unfilled in terms of lost revenue and increased stress. However, this pales in comparison to hiring a toxic teacher that you have to fire weeks later in order to start again.
For good reason, there are lots of systems designed to identify the great from the good teachers. The process typically requires email sorting of CVs, multiple interviews, contract signing, and training before their first class.
Try these top tips to reduce the time and resources your language school needs to invest in hiring and ensure that you hire the right teacher the first time, every time.
Top Tips to Streamline Recruitment:
Pre-screen Applications: Invest in online recruitment platforms that simplify and streamline your pre-screening process by making it easy to highlight the good (or alarming) parts of a CV, application or initial demo. Alternatively, use forms and questionnaires to attract great teachers and detract time-wasters. We've found Freshworks to be really helpful.

Stage Multiple (Short) Interviews: To avoid spending too much time with an unqualified applicant, start the interview process with short (ideally asynchronous) stages aimed at quickly gauging the candidate's availability and compatibility with your school's vision. This can save hours of staff time and reduce the likelihood of engaging candidates unsuited for your school.
Test Practical Skills Early: The most important skill is that a teacher can build rapport with their students and teach effectively. Don't wait too long to test this key assumption. Evaluate a candidate's proficiency to teach languages online early in the process with practical tests or demo lessons (even self-recorded videos) to determine their skill level before you commit to hiring and training them.
Standardise Onboarding: By streamlining the onboarding process, you can ensure all new teachers are aligned on the language school's expectations from day one and can help identify those who may struggle to meet the standards early. You can create automatic email campaigns or video courses to automate this activity.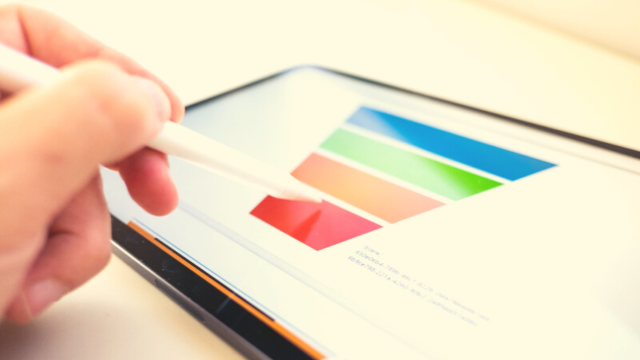 2

Lead Generation
Finding prospects and nurturing them into loyal customers is crucial for any online language school. While creating marketing funnels and systems is a big topic, and outside of the scope of this article, there are a few strategies language school owners should be aware of:
Automate Your Process:

A good Customer Relationship Management (CRM) system can automate a lot of your lead generation process and tends to be a great investment. These systems can organise your leads, track interactions and even automatically follow-up with leads that don't buy. Email follow-ups can automate the steps needed to take a curious prospect to a paid customer. This frees up your team to focus on higher-level tasks. For startups, a spreadsheet will do. Insightly and Pipedrive are good options for small-to-medium businesses. LearnCube uses Hubspot, and while expensive, it offers a lot of value to larger businesses.

Segment Your List:

Not all customers are the same, but splitting your list into segments based on shared characteristics can help you improve the effectiveness of your email campaigns. Think about location, language of interest, language proficiency level, etc. One thing to be careful is to avoid becoming too sophisticated too quickly.

Review and Refine:

The great thing about most modern email automation software is you can run AB tests to improve the effectiveness of your email communication constantly. Monitor the open rates, click-through rates, and conversion rates to understand what works best for your audience and continually improve your results.

Automate Demo or Class Scheduling:

Rather than trying to get prospects to reply, see if you can get them to book a sales or demo call automatically. Keep your initial calls short to minimise time with time-wasters. You can embed scheduling widgets, like the one from Calendly, into either your website or via a link in your emails.
Remember, it often takes many months for a student to warm up to your language service, so don't be shy and email regularly. Let those emails educate & add value to your potential customers. Don't forget to sprinkle in clear calls to action to upgrade to your paid language services while watching out for any spikes in unsubscribe rates.
Now there is a distinction between lead management and user management. At the lead management stage, the focus is on understanding the prospect well enough to persuade them to buy from you.
Once they pay and become customers, the focus shifts to understanding the learner well enough to persuade them to keep paying for your service.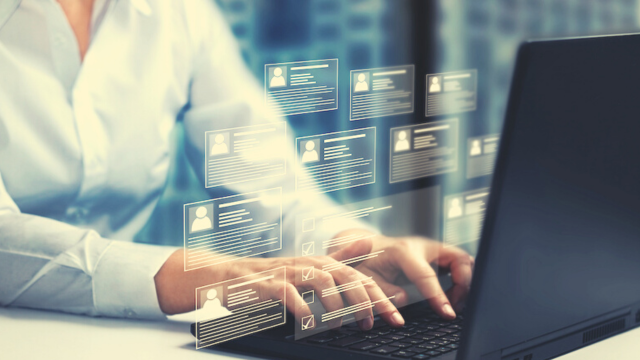 3 Tutor and Student Management
For the learners willing to pay for your service, you'll want to transfer these to your tutor management system. For tutoring and language businesses, you'll want an online mana platform that can manage:
Your Teachers
Access to Database
Online Class Credits
Teacher-Student Communication
Startup businesses can certainly get away with simple spreadsheets and Zoom links, but the system may start breaking down beyond 5 to 10 teachers.
In fact, usually, when a business starts becoming more established, operational efficiency becomes the way to viability and higher profitability. This is the point in your company's growth cycle where a software for language schools like LearnCube's Online School software could be the right choice.
The key benefits of investing in an Online School platform are that you can:
Control teacher quality, behaviour and access to your online platform.
Have a system that can protect user data (emails) and your customer email list.
Automate how many online classes students can take and which classes they can be enrolled in (or register themselves in).

Note:

Class credits offer an efficient way to ensure that only students who have paid can schedule sessions with teachers. You

don't want a system where it's possible for students to book with your teachers, even if they haven't paid or paid for enough online classes. Systems that manage class credits automatically, allowing students to buy them online or administrators to add them easily, ensure that only paid customers can book classes.

Moreover, systems that automatically deal with cancellations (usually only refunding class credits if cancelled 24 hours ahead of the class) eliminate the tedious back-and-forth email exchanges with difficult customers.

Ensure teacher-student communication is recorded in a central system that is easy to control and possibly reviewed if needed.
Having all of these capabilities in one system, can reduce your time monitoring your operations and focus on improving the business.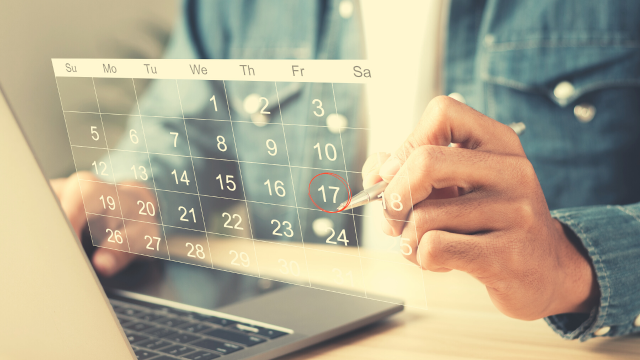 4 Class Scheduling
Ensuring that teachers and students can reliably get into the right classes at the right time is essential to student satisfaction. The wrong software for scheduling classes can make students frustrated and increase their likelihood of churning. If the administrator is involved in the scheduling, there could be a lot of to and fro with the student, wasting time and business suffering from lost classes, frustrated customers and burnt-out staff.
Here are some strategies to dramatically improve class scheduling, especially if you're currently using free software like Google Calendar and Zoom:
Automate Class Scheduling: Some standalone systems like Calendly allow students to book online classes based on the teacher's availability. This can drastically reduce the time spent on manual scheduling and rescheduling, avoiding potential conflicts and overlaps.

Services like LearnCube, offer software for class management, but without requiring yet another subscription. LearnCube can also help language school administrators to either rapidly create courses or facilitate student self-booking with access to all teachers as part of your online language school.

Auto-Reminders for Classes: Students need to be reminded of upcoming online classes and be crystal clear on what link/button to click on to enter their online classroom. Ideally, the platform you choose automatically sends reminders to your students (without users needing to use/share their personal email), and you never have to worry about misunderstandings or refunds.

Don't Forget Daylight Saving Time Changes: If your language school teaches students from multiple countries, you'll need to think about daylight savings as many regions do not change in sync. For example, there are often several weeks between when Europe turns their clocks forward by one hour, compared to North America. Think about this in advance, and ideally, choose a scheduling system that can manage daylight saving changes automatically without stressing out your students.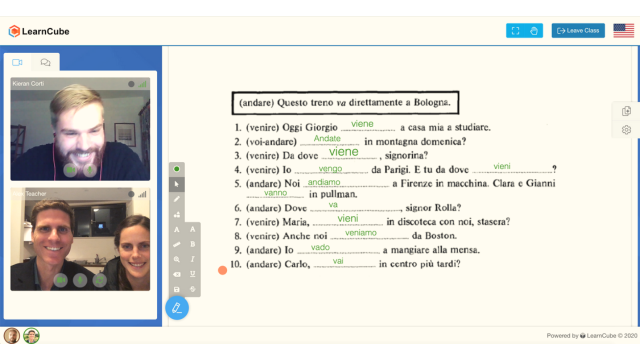 5 Online Class Delivery
During the pandemic, it became common for teachers to use Big Tech video-conferencing tools like Zoom, Google Meet and Teams. They remain good meeting stools, but professional virtual classroom software can make your language school more efficient.
Virtual Classrooms streamline the following activities:
Whiteboard for online teaching: An online whiteboard (or web whiteboard) allows a teacher and student(s) to interact on the same online whiteboard via a web page at the same time…from anywhere. An online whiteboard means the online tutor can collaborate with a student in real-time, much more efficiently. A tutor might want to explore ideas, brainstorm, draw, write, share educational videos and embed lesson materials on the board.
Access to Teaching Materials: For example, those that use the LearnCube Online School, can upload all of their materials to a central Content Library. Teaching materials in the default folder will be shared with all teachers that are associated with that LearnCUbe Online School. On top of that, everything a teacher uploads to the LearnCube Whiteboard is automatically saved in the cloud to their personal Content Library and can be used in future classes. These capabilities make it easier for administrators to manage which teachers access which content, for example, providing English teachers with only English teaching materials and French teachers with only French teaching materials. It allows the school to automatically cut off access to classes and content if a teacher resigns or is fired.

Alternatively, external applications like Dropbox or Google Drive can offer permissions, but teachers have to either screen share or they have to download the files before class. One thing that is both common, and

unprofessional, is when teachers share their screens, and the student can see (often a very cluttered) desktop as the teacher tries to find the right file to share.

Control of the Virtual Class: Look for virtual classroom software where the teacher has control which means they can manage the class in the most efficient way possible. Teacher tools to lock the interactive aspects of the whiteboard (especially if a group of young learners is in the online class), teacher controls to mute or remove disruptive students, and breakout room features are all extremely valuable to maximising the time students have in the online class.
Access to Past Classes: In the LearnCube Virtual Classroom, at least, teachers can reload materials from past classes (including all annotations) to ensure class continuity. Students will be impressed by the professionalism of your teachers, and teachers will be happy for a fast way to pick up their next class from exactly where they left the last class.
Connection with Reports: By using a virtual classroom integrated into your platform, you can gather all your attendance, student satisfaction and classroom satisfaction information in one place. See the next section.
Some small schools attempt to save money by sharing paid virtual classrooms or Zoom accounts with their pool of teachers. The downsides of additional administration and frustration tend to outweigh the benefits of this approach.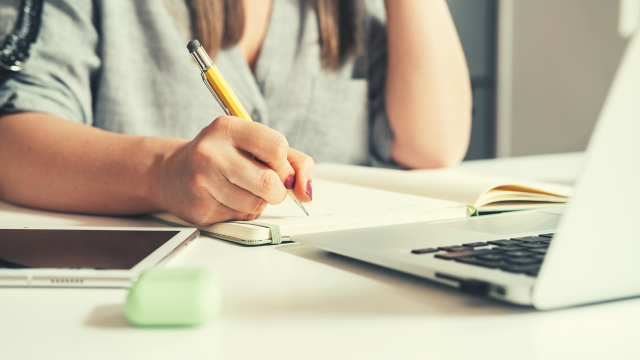 6 Reporting
Every online language school needs to understand their student attendance, teacher attendance, lateness, student satisfaction and many more factors in order to manage the health of their business.
Relying on multiple spreadsheets can be time-consuming and increase the risk of errors. These mistakes not only come with a cost but can also lead to overlooking critical issues, causing them to escalate.
Think about all the activities that need to be monitored to ensure an online language school is successful as it grows (teacher happiness, student satisfaction, class count, etc.) and think about how much time/effort is required to get that information when you need it...
An Online School software or tutor management system should help you monitor these critical metrics systematically, if not automatically, through a reports section. This empowers managers to make better decisions for the business, for example, when to hire/fire teachers, which students to check in with and which business opportunities to explore.

Student Payments
If you sell language classes to students (consumers), then streamlining student payments is an essential task. Without a good system, you'll find students pay late, require multiple payment reminders and could mean financial stress and frustrated teachers.
The first and most efficient way to ensure you get paid on time is to require students to pay upfront. This is common and avoids all the awkwardness of following up with students.
To make it easy for students to pay, use online payment providers like Stripe or possibly Paypal (although this is a much inferior service for the teacher or school). These are secure services which give your students the confidence to pay you online.
If you want to sell packages of, or subscriptions to, a certain number of language classes directly to customers LearnCube's Online School has an integrated payment gateway that connects with its class credit system making it easy to ensure students can only book classes when they have paid for the appropriate number of classes upfront.
Building a successful online language school or tutoring business can seem like a jigsaw puzzle, but when all the pieces come together, the result is a highly efficient, profitable business. Continually evaluate your processes but also know when to invest in the right kind of software solution. The smaller the business, the less sophisticated the systems need to be, so pulling together different freeware options might suffice in the early stages.
However, as your language school expands, especially once you cross the ten-teacher mark, it's likely time to consider consolidating your processes into one easy system. That's where LearnCube Online School steps in. Reach out to us to explore how we can unify your systems with our all-in-one software solution. Interested in partnering with LearnCube for your Online School needs? Schedule a chat with our team here.
Be notifed of our new materials!
Ut enim ad minima veniam, quis nostrum exercitationem ullam corporis suscipit laboriosam, nisi ut aliquid ex ea commodi consequatur.